LOGTV, Ltd is pleased to announce that Educational DVDs of KARSKI & THE LORDS OF HUMANITY movie are now available for purchase.
Educational DVDs come with Public Performance Rights (PPR), which permit screenings in a classroom, church, museum, synagogue or library for educational closed circuit purposes, when no admission is charged. (Other presentations open to public are not part of PPR and require permission from the distribution company and the license fee.)
"… a moving look at a Polish resistance fighter" The Los Angeles Times; "…fascinating…" The New York Times;
"… appropriate for museums and classrooms…" The Hollywood Reporter
To order the EDUCATIONAL DVD online please go to: http://www.logtv.com/catalog/index.php
or e-mail: grunberg@logtv.com
To order the EDUCATIONAL FILM in HD streaming on Vimeo On Demand go to: https://vimeo.com/ondemand/jankarski
THEATRICAL PREMIERE SCREENINGS IN THE U.S. & EUROPE
AWARDS 2015/16/17
RUSSIAN DOCUMENTARY FILM FESTIVAL IN NEW YORK
 THE BEST FILM in "Remembering Holocaust in the XXI Century" category
THE LAVR AWARD 2016 – the Russian documentary "Oscar"
International Historical & Military Film Festival, Warsaw, Poland – GRAND PRIX in documentary category
The Eagles Awards – Polish film "Oscar" – a nomination for the BEST DOCUMENTARY
"Jewish Motives" International Film Festival in Warsaw – BEST POLISH DOCUMENTARY
OFFICIAL FESTIVAL SELECTION 2015/16/17 
Boston Jewish Film Festival
Australia Jewish Film Festival
Ann Arbor Polish Film Festival
Philadelphia Jewish Film Festival
 Westchester Jewish Film Festival
 N.J. Jewish Film Festival
 Maine Jewish Film Festival
 Buffalo Jewish Film Festival
EKRAN Polish Film Festival in Canada
Polish Film Festival in Rochester
"Two Riversides" Film & Art Festival, Kazimierz Dolny
Krakow Jewish Cuture Festival
"Cameraimage" International Film Festival, Bydgoszcze, Poland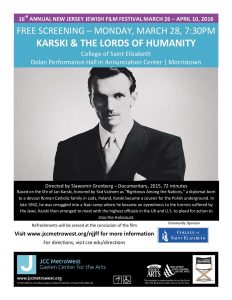 SPECIAL SCREENINGS 2015/16/17 
JCC Rockland, W.Nyack, NY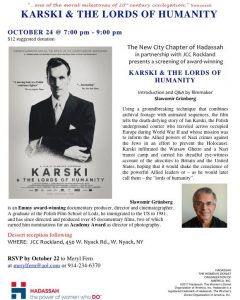 Museo Memoria y Tolerncia in Mexico City

Reunion of Lubliners, Lublin, Poland
The Holocaust Museum – Jewish Federation of St. Louis, MO
Columbia University, Harriman Institute, NYC, NY
Loyola Marymont Univerity, Jewish Studies, Los Angeles, CA
University of California in Berkeley, CA
Elms College, Chicopee, MA
JCC Manhattan, NYC, NY

Yale University, New Haven, CT
The New School, NYC, NY
Congregation Ezra Bessaroth, Seattle
Central Connecticut State University, New Britain, CT
Jewish Federation Association of Connecticut (JFACT) and Hillel at CCSU
University of Toronto, Toronto, Canada
Stanford University, Center for Russian, East European and Eurasian Studies
Port Jefferson Documentary Series and Stony Brook NY
Illinois Holocaust Museum & Education Center in Skokie, IL
College of Saint Elizabeth, Center for Holocaust and Genocide Education, Morristown, NJ
The Daniel Pearl Education Center, East Brunswick, NJ
The Birmingham Holocaust Education Center, Birmingham, AL
Sonoma State University, Holocaust & Genocide Lecture Series, CA
Iona College, Westchester County, NY
Georgetown University, Washington, DC
January 20, 6.15 PM, Iluzjon Cinema in Warsaw
"Karski & The Lords of Humanity" screens on January 20, 6.15 PM at Iluzjon Cinema in Warsaw, Poland as part of the Polish Film Eagles Awards competition. This film awards ceremony status in the Polish film industry can be compared with Academy Awards.
November 27-December 3, 2015 "Karski & The Lords of Humanity" at Cinema Village, NYC. Q&A with Slawomir Grünberg on November 27, 28 & 29.
November 24, 2015″Karski & The Lords of Humanity" at JCC Manhattan. Q&A with Slawomir Grünberg & E. Thomas Wood moderated by Annette Insdorf will conclude the showing. 
November 13-19, 2015  "Karski & The Lords of Humanity" at Laemmle Theater Playhouse 7, Pasadena, CA. Showtimes: 1:10, 3:20, 5:30, 7:40 & 9:50. Q&A with Slawomir Grunberg on November 13 & 14 at 5.30 and 7.40  http://www.laemmle.com/films/39932

July 2, 2015, 8 PM  The Jewish Culture Festival in Krakow "Karski & The Lords of Humanity" (Karski i władcy ludzkosci)  High Synagogue (Synagoga wysoka), Krakow, Poland.
A Special Screening of "Karski & The Lords of Humanity" in Jerusalem, Israel on July 14, 2015. On the occasion of 25th anniversary of the renewal of diplomatic relations between Israel and Poland, Menachem Begin Heritage Center in Jerusalem organizes a Special Screening of "Karski & The Lords of Humanity" in the presence of the Foreign Minister of the Republic of Poland, Grzegorz Schetyna and the President of the World Jewish Congress, Ambassador Ronald S. Lauder.
May 28, 2015, 8 PM; "Karski & The Lords of Humanity" (Karski i władcy ludzkosci) at The Grand Finale of  O!PLA – Festival of Polish Animation, Kino Kinematograf, Lodz, Poland.
May 10, 2015 "Karski & The Lords of Humanity" wins a Special Award for "The Best Polish Film" at the Jewish Motifs International Film Festival in Warsaw, Poland
May 2015 "Karski & The Lords of Humanity" screens at Off Camera International Festival of Independent Cinema in Krakow, Poland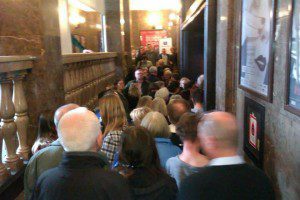 Due to the unusual interest in "Karski & The Lords of Humanity", "Kino Swiat" a major film distribution force in Polish cinema, which originally opened our film at 15 theaters, then in 26 theaters, today shows the movie in 49 theaters around the country
The theatrical premiere of "Karski and the Lords of Humanity" (Karski i wladzcy ludzkosci) will take place in Poland on April 24, 2015 (Jan Karski's 101st birthday), and the film will open at 15 theaters all over the country.
April 20 The Marek Edelman Dialogue Center, Lodz, Special Screening
April 23 An Official Polish Premiere at POLIN Museum of the History of Polish Jews, 8.30 pm
April 17 Press Screening 10.30 am Kinoteka Cinema, Warsaw, a press conference will follow
Details of the U.S. theatrical premiere of the film will be announced soon.